DOLLY ART PROJECT HISTORY
The Dolly Project grew out of my involvement with computing and cyber culture which begin in the mid-eighties. I taught my first courses in digital imaging and made my first digital art in 1985. I became interested in both the conceptual ideas of computing and the physical tools--the hardware. The power of computers to create new images and also to modify and manipulate existing ones is now very old news, but it was a radical departure from traditional image-making in 1985.
My first body of work, The Architecture and Memory Series, consisted of digitally processed photographs, as well as critical writing and presentations. On the one hand, it seemed that computers, due to their capacity to record and store vast quantities of information, could enhance, extend, and stabilize human memory. On the other hand, it became clear that the opposite might also be true. As we came to increasingly use and rely on computers, the issues of information-overload, depersonalization, memory crashes, etc., tempered blind enthusiasm for technology. The second project I worked on through the mid-nineties resulted in several variations of performance and installation. Titled Mnemosyne's Dream, it was a further exploration of memory. It also looked at relationships between the tangible world of nature, things, and bodies and the cerebral world of computing.
In the mid-nineties, after the coming of broad access to the Internet, email, and then the World Wide Web, questions of identity overtook those of memory in my work. It was not only information and images (also sounds) that could be easily modified with computers, but also our own identities. We could choose to "be" different individuals in the online world and we also saw the graying of the borders between human and machine as technology penetrated the body. Pacemakers and mechanical prosthetics, for example, made cyborgs out of individuals who most likely were not aware of the larger implications of these medical advances. Artists, scientists, and of course science fiction writers, knowingly transgressed the borders between biological and mechanical as they investigated the future of cybernetics and biology.
Humans and other animals were not only changed by mechanical and electronic devices, but they also were increasingly the objects of genetic manipulation. Origin and identity were suddenly terribly vulnerable. Dolly, the cloned sheep, was unprecedented, because she was cloned with cells from an adult animal. When the news of Dolly hit the press in 1997, my attention--like that of much of the world--was snagged. I knew that I wanted to make art in response to Dolly.
HI-TECH VS. THE IDYLLIC
It's relevant to report that I grew up on a farm and that I moved back to the country, living in rural Vermont from 1974-84. I had a handful of sheep for a few years and came to know first-hand their behaviors, stereotypes, and association with the pastoral. Beyond this brief shepherding encounter, I also admit to being enamored of idyllic landscapes speckled with flocks of sheep. Therefore, when I began making art about a particular sheep named Dolly, I decided to juxtapose this hi-tech specimen with the humble creature that has played a role in human culture for about ten thousand years. The irony of this rustic animal becoming the emblem of futuristic biology made Dolly an excellent subject for examining the promises and the problems of cloning.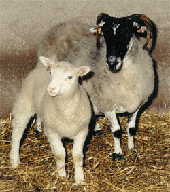 Dolly & surrogate mom
Dolly was an ordinary looking sheep. She had no outward signs of her parthogenetic, or virgin birth. Nor would you know by touching her wooly fleece that she was the one live outcome of 277 laboratory trials. A central piece of my Dolly Project, 277 to 1: The Cloning of Dolly, is a "diagram" of the experiment carried out at the Roslin Institute in Scotland: it lays bare a key aspect of cloning for all to see. It consists of 276 images of a plastic sheep that have been digitized, "artificially colored," and slashed with hand-painted black "Xes" to indicate their non-survival. In contrast to these 276 unframed images is a triumphant portrait of Dolly in an ornamented gold frame.
The second large work in the Project, While Shepherds Watched..., is a tapestry-like wall hanging that also speaks to the unsettling issues of cloning. In this case, ethical, religious, agricultural, environmental, and genomic diversity issues make their way to the surface.
Additional works in this project include "portraits" of sheep done as monoprints, color photographic prints, quilt-like mixed media pieces, and a series called "sheep clothing" which are assembled and stitched from paper, wool yarn and other materials.